You can do just about everything if you have these ten basic kitchen gadgets. For convenience, we keep most of them by the oven, in a jar or special utensil holder.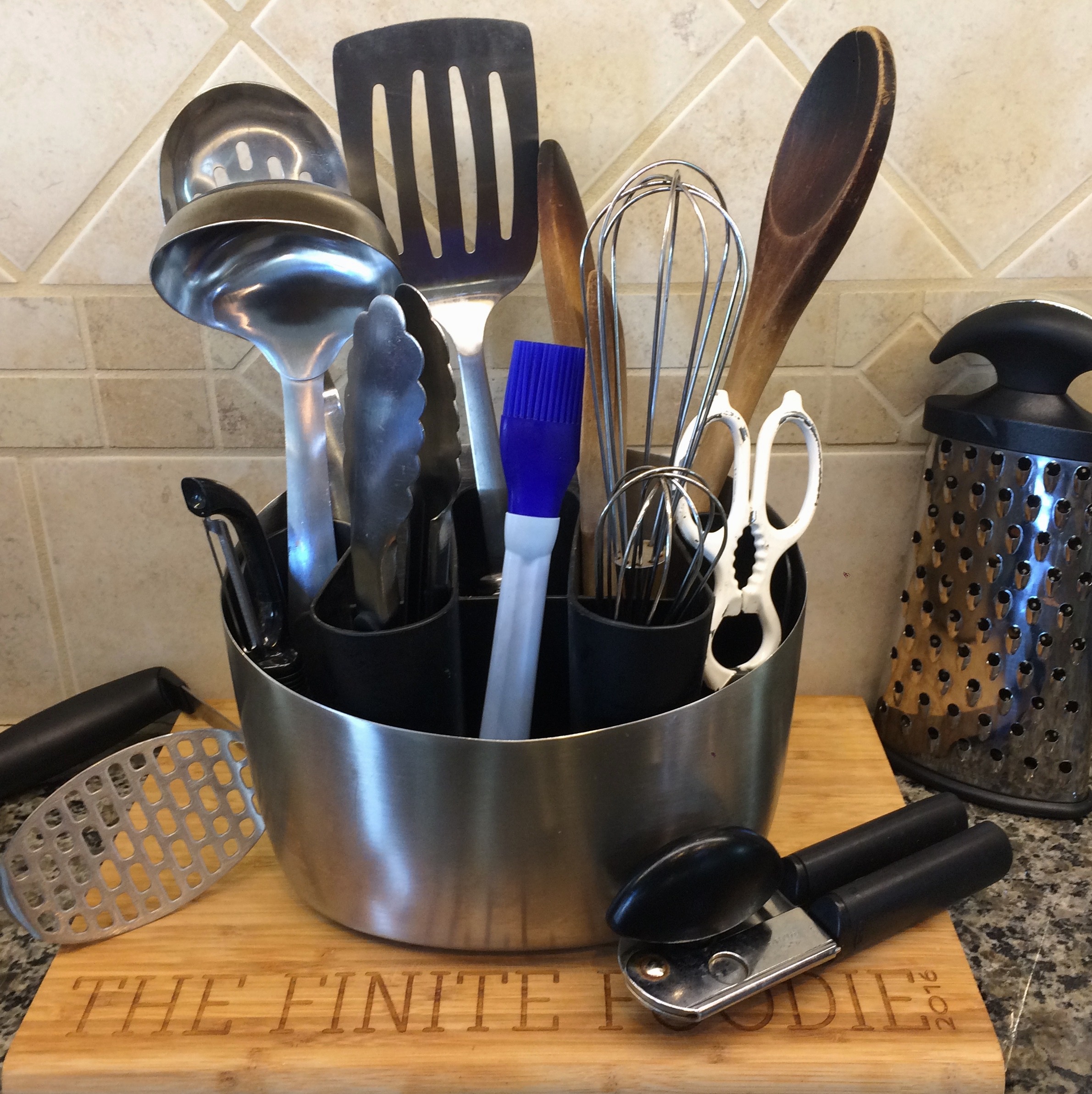 Can opener – One that includes a bottle opener is more versatile.
Food turner – Sturdy, stainless-steel is recommended. May also be called a burger or pancake turner. It is sometimes referred to as a spatula, but that can be confusing since the term "spatula" is also used for a silicone food scraper.
Grater – A 4-sided box grater or similar is the most flexible. It should have various sizes and shapes of holes for grating, zesting, and even slicing.
Ladle – This kitchen spoon is designed to dip into a pot or bowl and serve items such as soups and stews.
Large kitchen spoon(s) – To accommodate the user's preference, they come in various materials: wood, metal, silicone and plastic.
Large kitchen spoon, slotted – This large spoon has holes or slots. See materials above.
Masher – A sturdy, stainless steel food masher, with slots or holes is best. This is used for mashing potatoes and other soft foods.
Tongs –10-inch, stainless-steel tongs with silicone grips are recommended. Size and design depends on what is most comfortable to the user. They will be needed daily for all sorts of jobs, from serving steamed green beans to picking up hot or raw foods that shouldn't be touched with bare hands.
Vegetable peeler – A heavy-duty peeler with a comfortable silicone grip works best. This gadget peels vegetables and fruit easily and can be used if a paring knife is not available.
Whisk(s) – A medium-sized wire whisk is suggested to beat vinaigrette, eggs, cream, and other ingredients. A small one is used for mixing salad dressings. A set of 3 sizes can be purchased.