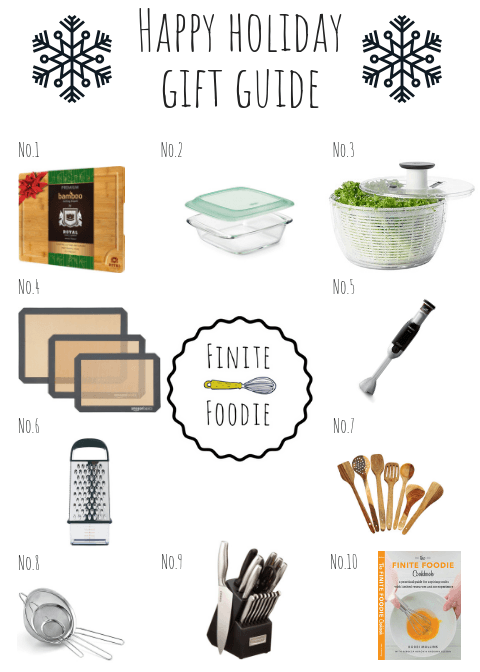 No. 1 Bamboo Cutting Board | No. 2 8×8 Glass Baking Pan| No. 3 Salad Spinner | No. 4 Silicone Baking Mats | No. 5 Hand Blender | No. 6 Cheese Grater | No. 7 7-Piece Wooden Cooking Utensils | No. 8 Stainless Steel Stainers Set | No. 9 17-Piece Knife Set and Knife Block | No. 10 Finite Foodie Cookbook
If you are busy doing some last minute shopping for your loved ones, then we have the gift guide for you! This gift guide includes some of our absolute favorites items for the Finite Foodie in your life (all available on Amazon and in many kitchen and department stores).
These items are all recommended for stocking a Finite Foodie kitchen, which typically has limited space. By choosing wisely, you'll have everything you need and room to store them, too. Some items require a more substantial investment than others, but they are all worth it. Also, many of these are discounted right now (thank you holiday shopping sales), so get them while the price is right!
What are you buying for your favorite Finite Foodies? Share with us in the comments below!