Roasting vegetables brings out their natural sweetness and flavor and is quite easy to do. You might even convert your die-hard Brussels sprout hater into a fan, simply by roasting them!  See our basic instructions and chart for cooking times to make this simple task even easier.
Basic tools: baking sheet, knife and cutting board, large bowl, aluminum foil (optional)
Basic ingredients:
Vegetables (cut in similar sized pieces)
High-heat cooking oil
Seasonings
Vinegar (optional-can use before or after roasting)
Example: use 8 cups of vegetables, 2 tablespoons oil, a generous sprinkling of salt and pepper, 1-2 teaspoons herbs, and 1 tablespoon balsamic vinegar for about 4-8 servings. (The vegetables will reduce in size by about half.)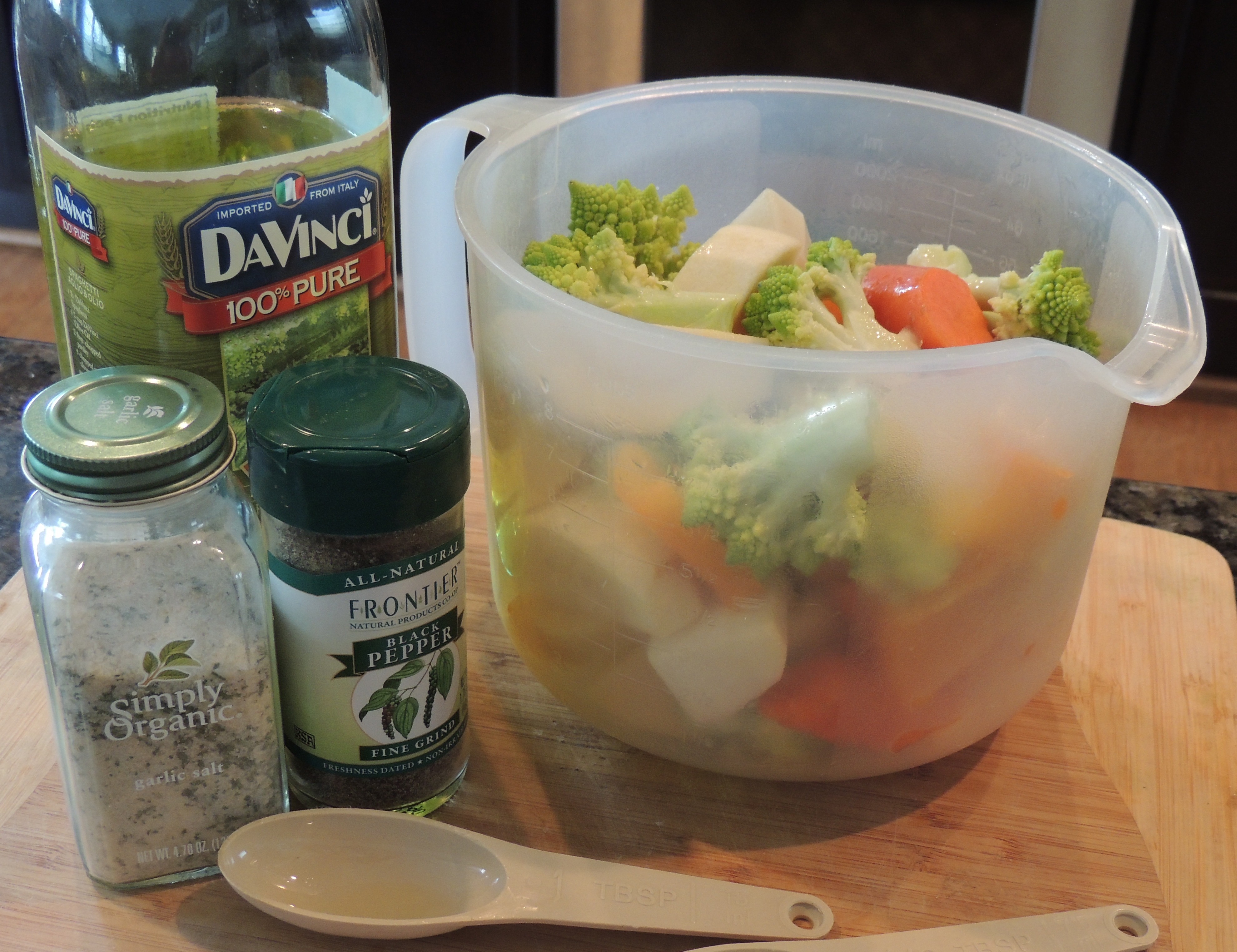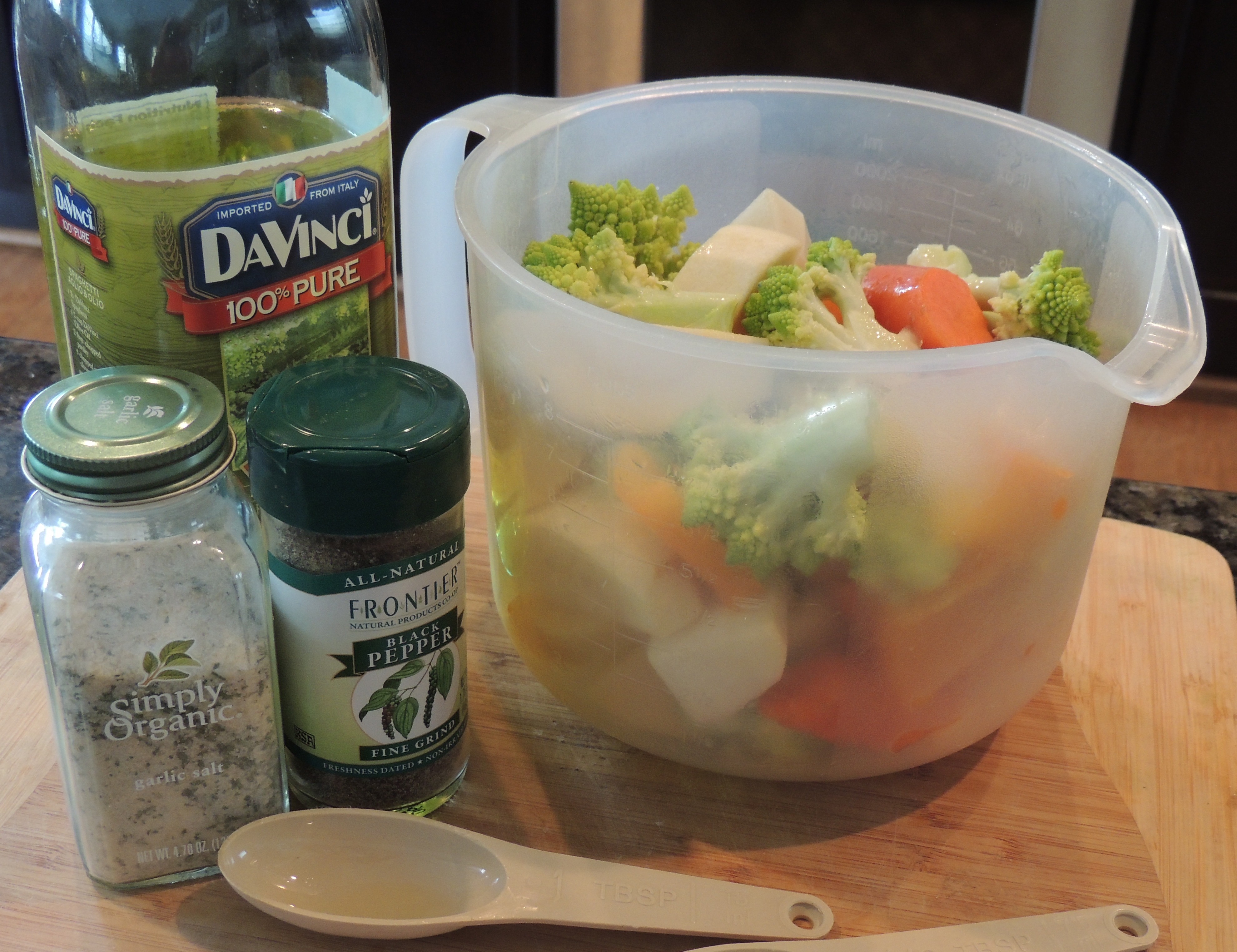 Basic instructions:
Preheat oven to 425°F. Spray or rub oil onto a baking sheet.
Cut vegetables into pieces of similar size, usually 1 to 2-inches.

Place vegetable pieces in a large bowl and toss with oil and seasonings.
Spread out on a baking sheet in one layer. For potatoes, squash and root vegetables, we like to cover with foil and cook for half the length of time indicated in the table below then remove foil, stir and continue cooking uncovered until done. This is optional and not necessary for vegetables that cook more quickly like asparagus or zucchini.

Chart of approximate times for roasting vegetables:
(Varies depending on how big the pieces are and how full the pan is):
| | |
| --- | --- |
| 30-60 minutes | Root vegetables (potatoes, carrots, parsnips, turnips, rutabagas) winter squash, whole head of cauliflower |
| 20-30 minutes | Beets, onions, fennel, Brussels sprouts, cabbage wedges, eggplant chunks, cauliflower wedges, broccoli florets |
| 10-20 minutes | Peppers, summer squash, zucchini, asparagus, tomatoes and smaller pieces of the previously mentioned vegetables. |
For combinations, don't worry too much about different cooking times. Just combine assorted vegetables and roast them until everything is soft. Some pieces might be overcooked, but they'll still be delicious!
Try these seasonal combos:
Fall Root Vegetable Mix
Use whatever combination of these that you want. We included the pepper for color and flavor, even though it's more of a summer vegetable. Add onions and garlic if desired, but it's quite good without them.
Potatoes (white, sweet or a combination), cut into 1 to 1-1/2 inch chunks
Carrots cut into 1-inch slices, on the diagonal
Parsnips cut into 1-inch slices
Turnips or Rutabagas, cut into 1-inch chunks
Green bell peppers cut into 1-inch pieces
High-heat cooking oil
Salt and pepper to taste
Rosemary
Vinegar (We like balsamic, apple cider or red wine vinegar best here.)
Follow basic instructions, leaving out the vinegar and rosemary until later. Roast for about 30 minutes. Stir in balsamic and rosemary, making sure the vegetables get turned over to brown on the other side, and roast for an additional 10 minutes or until everything is tender.
Winter Broccoli Mix
Use broccoli or cauliflower or both.

Broccoli florets
Cauliflower florets
Brussels sprouts, halved or quartered
Red onion, cut in chunks or half-rounds
Garlic cloves
High-heat cooking oil
Thyme
Salt and pepper to taste
Follow basic instructions. Roast for about 30-35 minutes, turning once halfway through.
Spring Asparagus Mix
Leave out the artichoke hearts if preferred.

Artichoke hearts cut in quarters (use water packed or frozen and thawed)
Asparagus, cut on the diagonal in 3-inch pieces
Cherry tomatoes
Rosemary
High-heat cooking oil
Salt and pepper to taste
Freshly grated Parmesan
Follow basic instructions leaving out the Parmesan. Roast about 20 minutes, turning once halfway through. Once it's done, sprinkle cheese on top and serve (or toss first).
Summer Squash Mix
Zucchini, cut in 1 to 1-1/2 inch slices
Yellow squash, cut in 1 to 1-1/2 inch slices
Onion, coarsely chopped
Cherry tomatoes, whole
Eggplant (optional) cut in 1-inch cubes (first, salt and allow to stand about 30 minutes, then rinse)
High-heat cooking oil
Oregano
Salt and pepper to taste
Follow basic instructions but set the tomatoes aside. These vegetables all cook quickly, except the onions, which is why you need to cut them into smaller pieces. Cook the onion and squash mixture about 10 minutes, then add the tomatoes and stir, turning over the squash and eggplant pieces. Cook another 10 minutes or until done.
GREAT SOLOS
Roasted Brussels Sprouts with Garlic Cloves & Balsamic Vinegar
Roasted Cabbage with Lemon Juice (see recipe)
Roasted Head of Cauliflower with Cumin or Mixed Spices (see recipe)
Roasted Parsnips with Rosemary
Roasted Onion with Balsamic Vinegar and Thyme
Roasted Beets with Oregano and Grated Orange Zest (stirred in at end)
Roasted Broccoli with Garlic Cloves and Lemon Juice
Roasted Carrots with Pesto or with Thyme