What's for Dinner Tonight?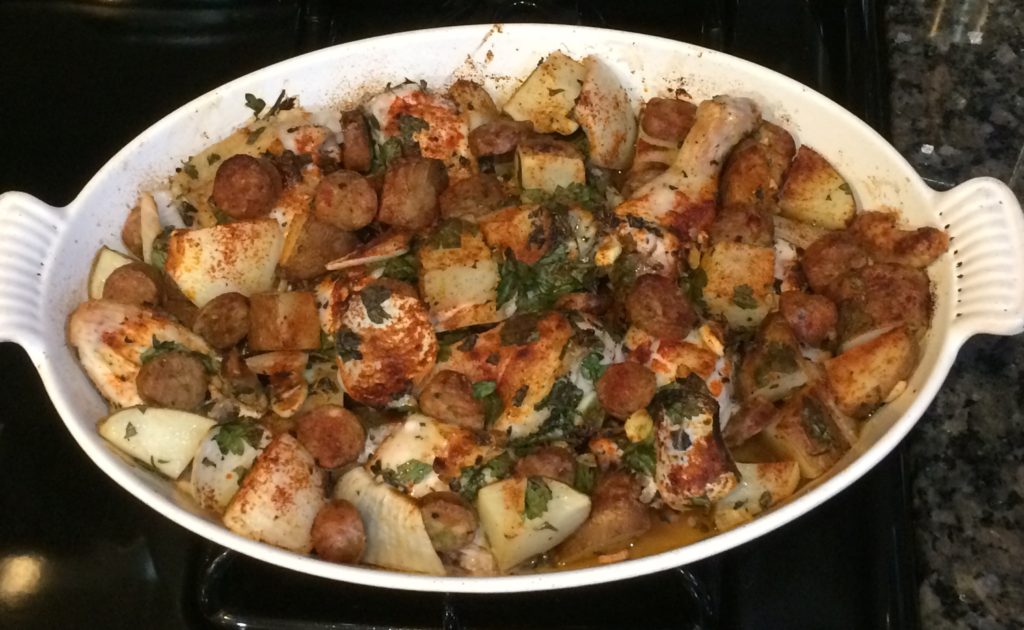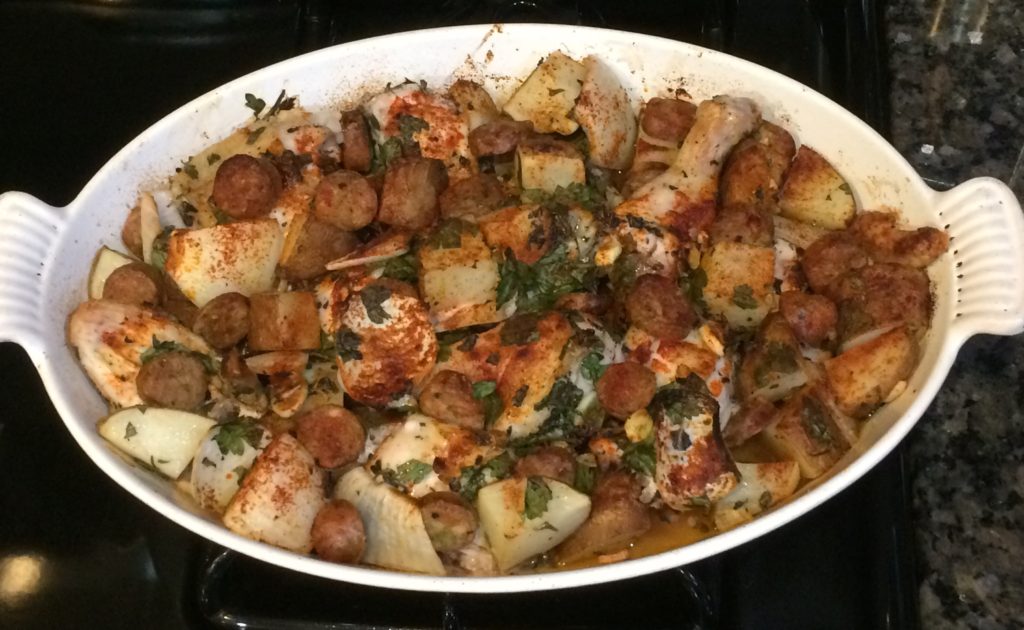 Portuguese Chicken
Garlicky Green Beans
Carrot Sticks
Dessert: Almond Gingersnaps 
"When Rebecca and Greg were in elementary school, a Portuguese friend showed me how to make this chicken dish, and it instantly became a family favorite. Not long afterward, we went to Portugal and found some variation of it on almost every menu. Although considered peasant food, we think it's fit for a king! You can make it with chicken wings, legs, or a combination of cuts. We updated our recipe to fit into an 8×8-inch baking dish, but if you have a larger dish you can make the recipe with a whole, cut-up chicken, doubling the other ingredients, which is what we did when everyone was at home (shown in photo above)." ~ Bobbi
This is another one of our long-time, go-to recipes. It's not fancy, but it's so satisfying. In the photo you might notice some spicy sausage, which is a delicious addition. We've cut back somewhat on the amount of  olive oil, garlic, and salt that is typically the Portuguese style, but feel free to be more generous with those ingredients if you prefer (although it's best to go a little lighter on the salt). Portuguese Chicken is only available in our cookbook, so pick up a copy while you can!
You'll see that we often serve green beans with our meals, since they're a favorite for just about everyone. Keeping with the garlic theme, we often make our quick and easy Garlicky Green Beans, although simple steamed green beans with a little salt and lemon juice is also nice. We sometimes add crisp carrot sticks for contrast in texture and color. In fact, we try to include a raw fruit or vegetable with (or after) each meal, and carrot sticks are an easy way to do so.
If you're in the mood for dessert, make these Almond Gingersnaps ahead of time and serve with ginger tea after dinner to help with digestion. They can be made with gluten-free flour or not.