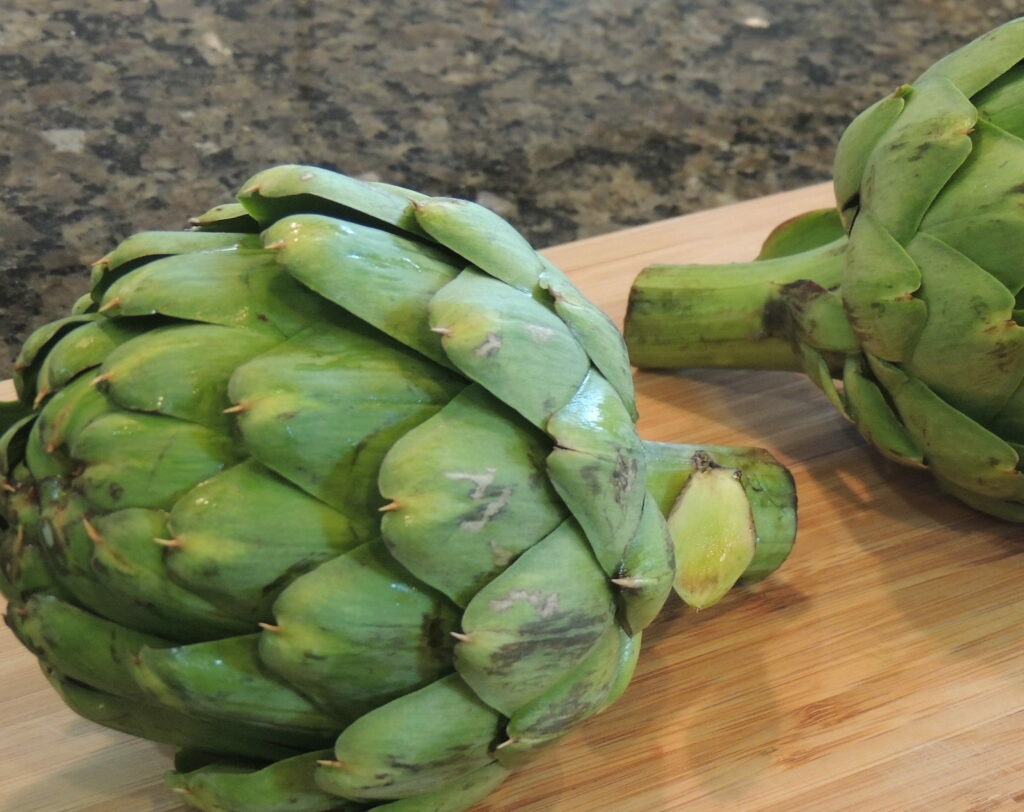 Artichokes are another vegetable that signals spring. Of course, you can easily find jarred and canned artichoke hearts and bottoms year-round, and we usually keep some in our pantry. However, there's nothing quite like a freshly steamed artichoke when it's in season.
If you like the idea of fresh artichokes, but never had the nerve to cook one yourself, maybe it's time! Start simple. Here are our tips for:
How to trim an artichoke.
How to steam an artichoke.
How to eat an artichoke.
Once you've mastered these, all you need is a little melted butter or French vinaigrette! Fresh artichokes are best served simply in the French fashion, in our opinion anyway. However, you can still apply these tips if you want to make grilled or stuffed artichokes.
Keep some jarred artichoke hearts on hand to add to your salads or to use in some of our recipes where they're just part of the supporting cast, not the star.
How to trim an artichoke:
To trim an artichoke for steaming, you will first need to cut off the top 1/4 to 1/3 of the flower, so you have a flat top. You will need a very sharp knife to accomplish it, and we recommend taking them in for a professional sharpening if they're dull.

Next, slice off a piece of the stem. We usually just take off about 1/4 inch, but sometimes more if it's tough or in order to fit into the pot. Peel the outside of the stem with a potato peeler. (Some people like to use kitchen scissors and cut across the top of each leaf, removing the thorny point, but it's not necessary and takes quite a bit of extra time.)

Now pull off about 2 rows of the bottom, smaller leaves, since they're basically inedible anyway.

Place the artichoke in a large bowl of water to cover about half of it and squeeze the juice of half a lemon over it.

Toss the spent lemon half into the bowl and turn the artichoke around a few times to coat with the lemon water. Repeat with the other artichokes. One to two lemons ought to be enough even with up to 6 artichokes.

How to steam an artichoke:
See our recipe for Steamed Artichoke (or insert whole recipe here).
How to eat an artichoke:
Tear off a leaf. Dip in sauce.

Holding it at the tip, insert into mouth with the inside of the leaf on top. Scrape off the inside flesh with the top teeth.

Eventually, you'll get down to the hairy center!

Using a spoon or knife, scrape out the hairy part.

You will end up with the lovely bottom part of the artichoke, creatively named by gastronomic linguists: an "artichoke bottom."

Pour in some sauce or vinaigrette and enjoy this delicacy that is truly worth the trouble!

We have no idea how the first person to figure this out did it, but we're so glad and grateful!