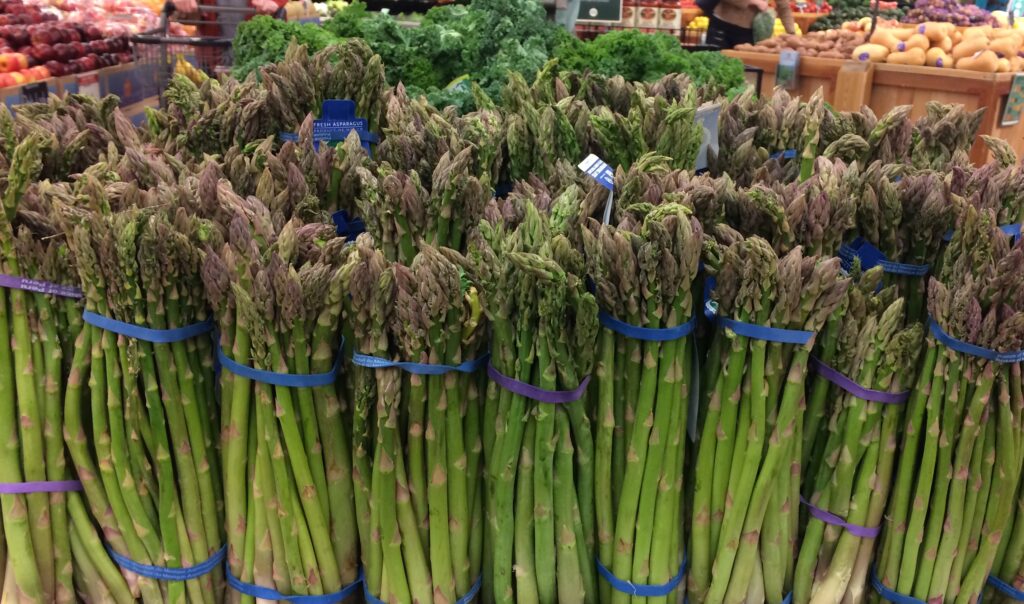 We don't know about you, but when we think of spring, we think of asparagus. After a long boring winter of root vegetables, bright green asparagus spears awaken our senses, and announces that spring has sprung. Enjoy them while they're tender, full of flavor, and about half the price you have to pay off-season.
Asparagus provides a number of antioxidants and nutrients that support good health.
Anti-inflammatories, including numerous flavonoids (like quercetin) and saponins (like sarsasapogenin). These compounds can help many autoimmune and other inflammatory conditions.
Antioxidants (like Vitamin A, C, the B's, and numerous minerals) that help protect cells from free radical damage and are used by the various detoxification pathways that remove toxins from our bodies.
High amounts of glutathione, the primary antioxidant necessary for detoxification.
Both soluble and insoluble fiber, including inulin, a prebiotic that supplies food for the good bacteria in the intestines.
Diuretic compounds that increase urine and eliminate water retention (common in people with edema and high blood pressure). Many water soluble toxins are removed in the urine.
High amounts of B vitamins that are necessary for proper blood sugar metabolism and vital for good homocysteine levels (a heart disease marker).
To make sure you obtain the most health benefits, you need to eat asparagus when it's as fresh as possible. Depending on where you live in the US, asparagus will be in season sometime between February and June. If you're buying it at the grocery store, wait until it's in season even though it's available year round. Look for asparagus that was grown fairly close to home, or at least in the US. Buy it at your local farmer's market if possible.
Asparagus in listed as #7 on EWG's list for the Clean Fifteen, meaning it's produced without many pesticides. Therefore, you can safely buy the conventionally raised asparagus. Save your dollars for other organic produce if you're on a tight budget.
As soon as you bring it home, wrap the ends in a damp paper towel and place it in a plastic bag in the refrigerator to slow down the loss of nutrients. Eat within 48 hours. Of course, the best way to eat it fresh is to grow your own. Check out these articles for tips on growing your own:
References:
http://whfoods.org/
http://www.eatingwell.com/blogs/health_blog/5_powerful_health_benefits_of_asparagus_you_probably_didn_t_know
http://www.rodalesorganiclife.com/garden/how-grow-asparagus
Bowden, J. (2007) The 150 Healthiest Foods on Earth.  Massachusetts: Fair Winds Press.