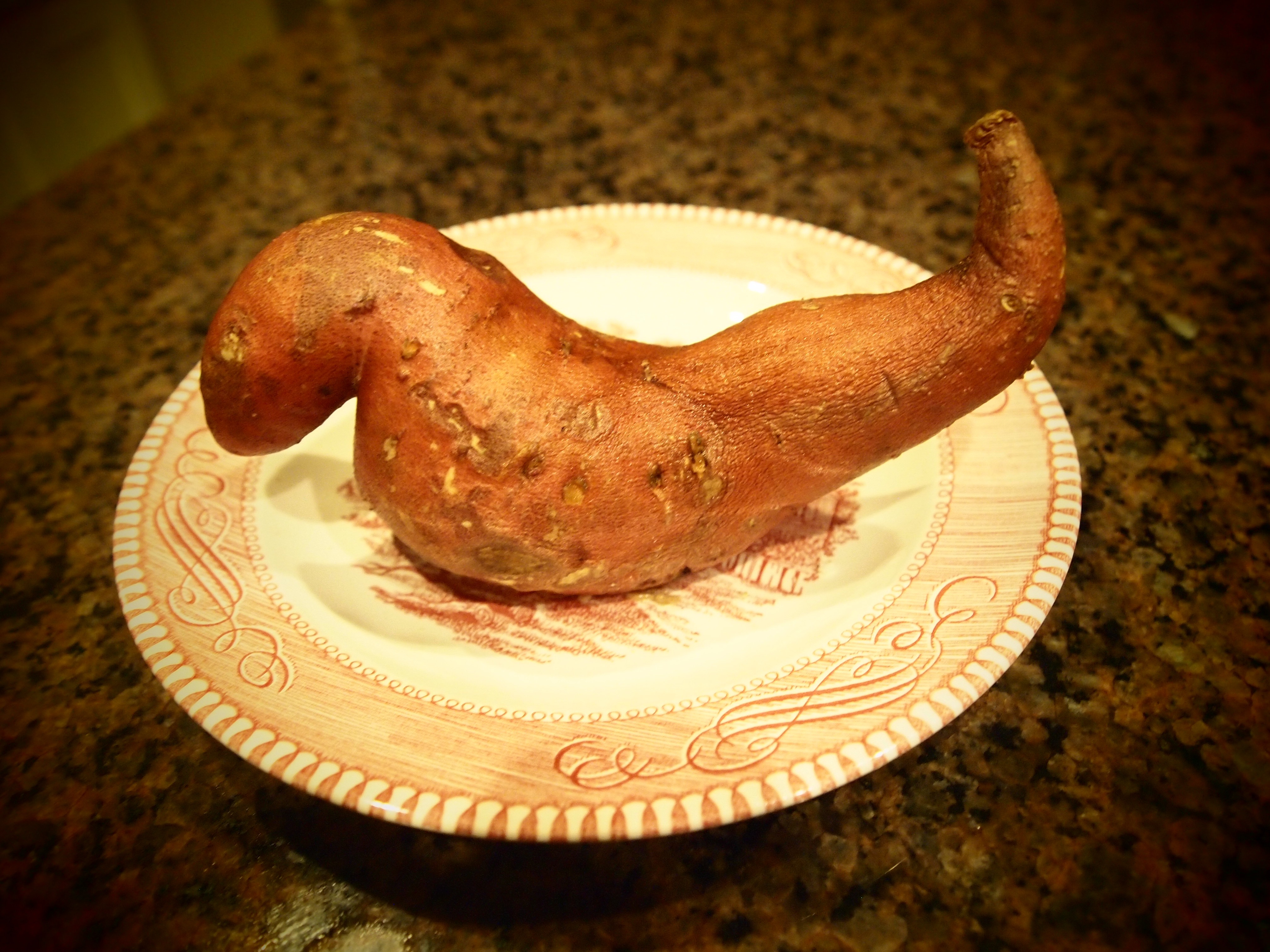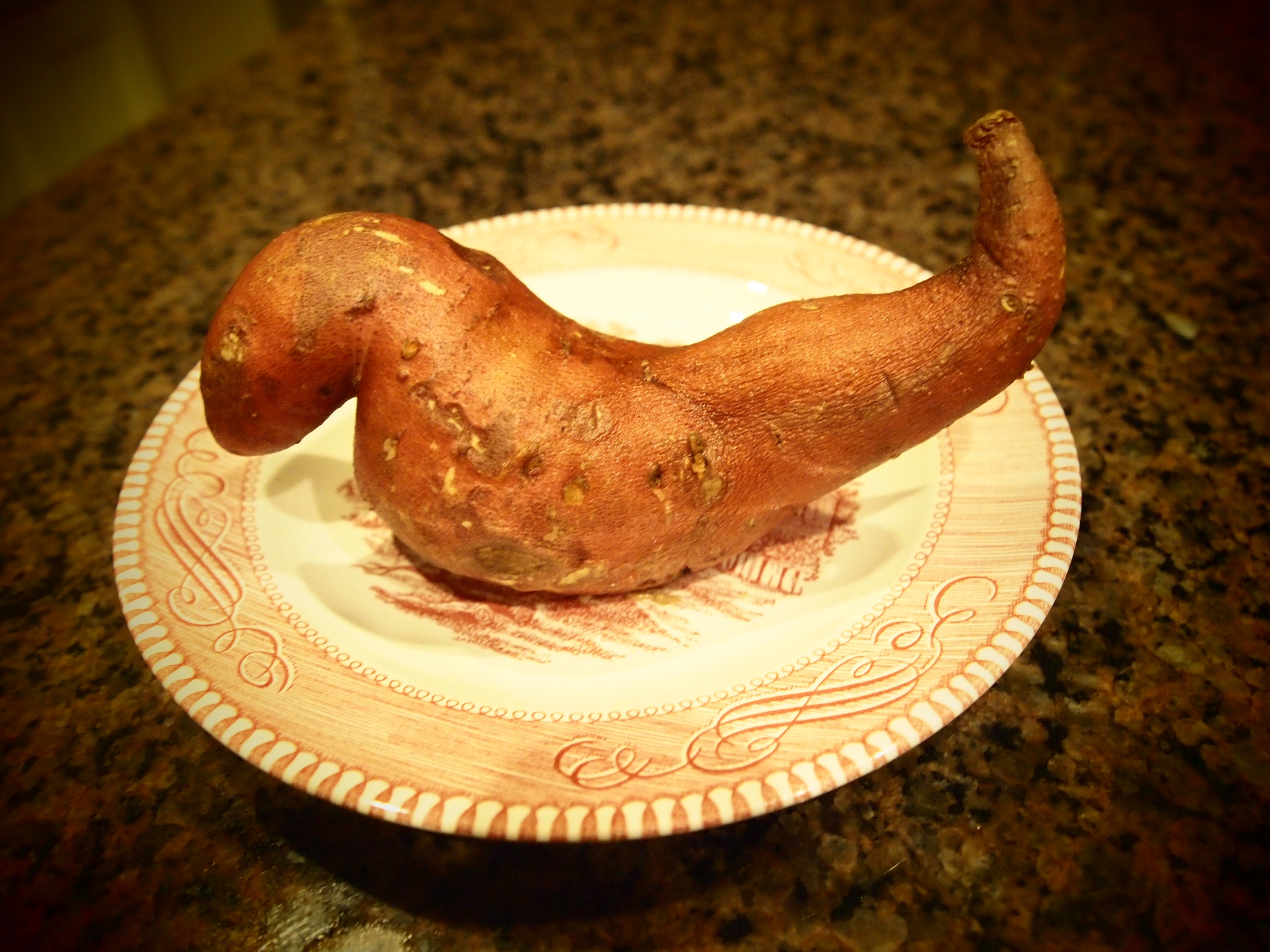 There are some weird-looking vegetables out there, but don't let that scare you away from the kitchen. Cook this dragon potato and enjoy him with melted butter and a little maple syrup!
Not sure how to properly bake a potato? We'll give you all the details here, whether you're cooking bizarre shaped sweet potatoes or plain old white potatoes.
"Bake potatoes in the oven, crock pot, or if you must, in the microwave. I like to use my crock pot for potatoes, but Mom prefers the old-fashioned way. She bakes them in the oven without foil for a crispy skin, her favorite part. However, both of us cheat sometimes and use the microwave." ~ Rebecca
SERVING SUGGESTIONS (there are limitless possibilities but here are a few)
Traditional loaded white potato – add a pat of butter, some sour cream, bacon bits and chopped chives or any combination.
Southwest – top with some refried beans, sour cream, grated Monterey Jack cheese and sliced avocado.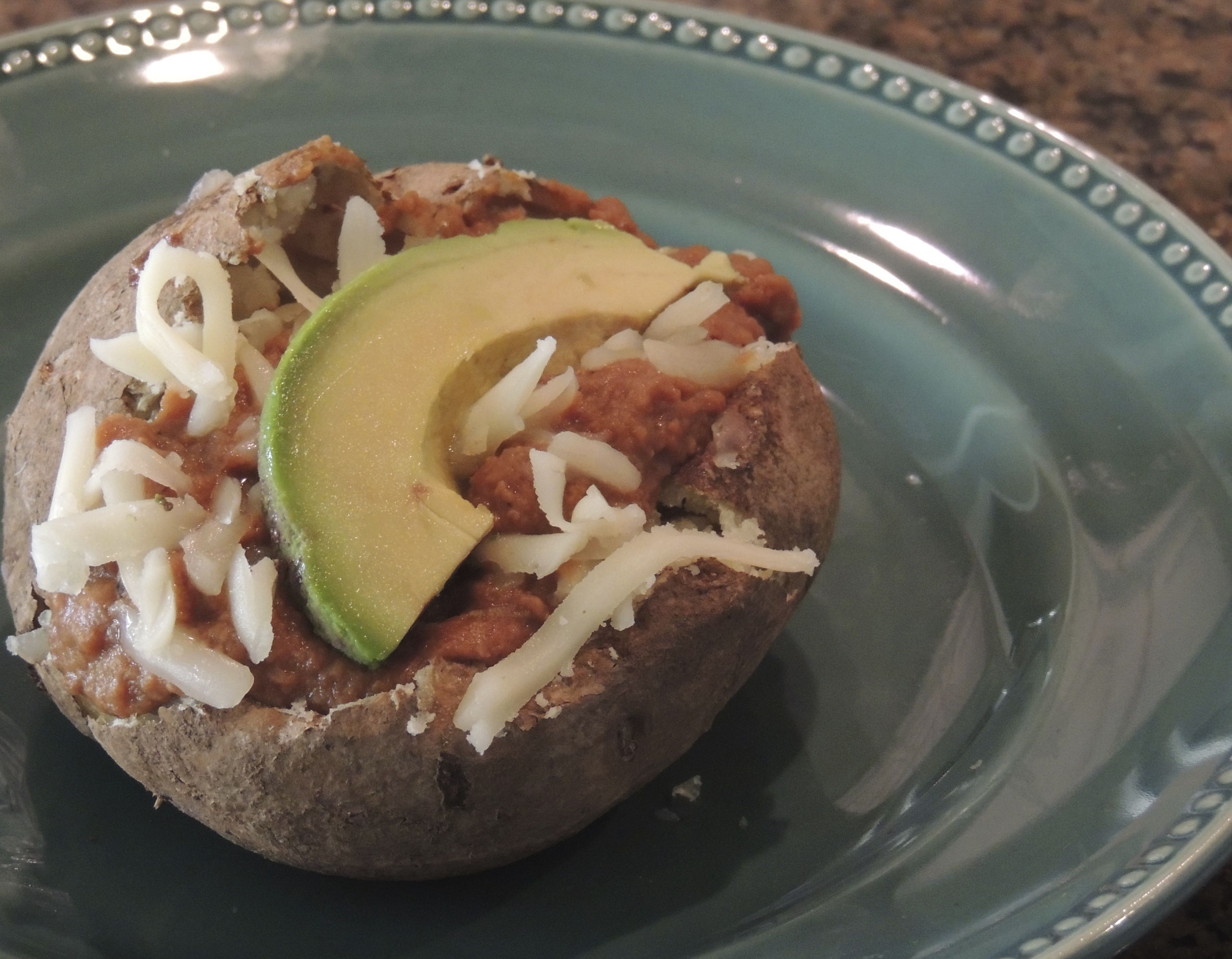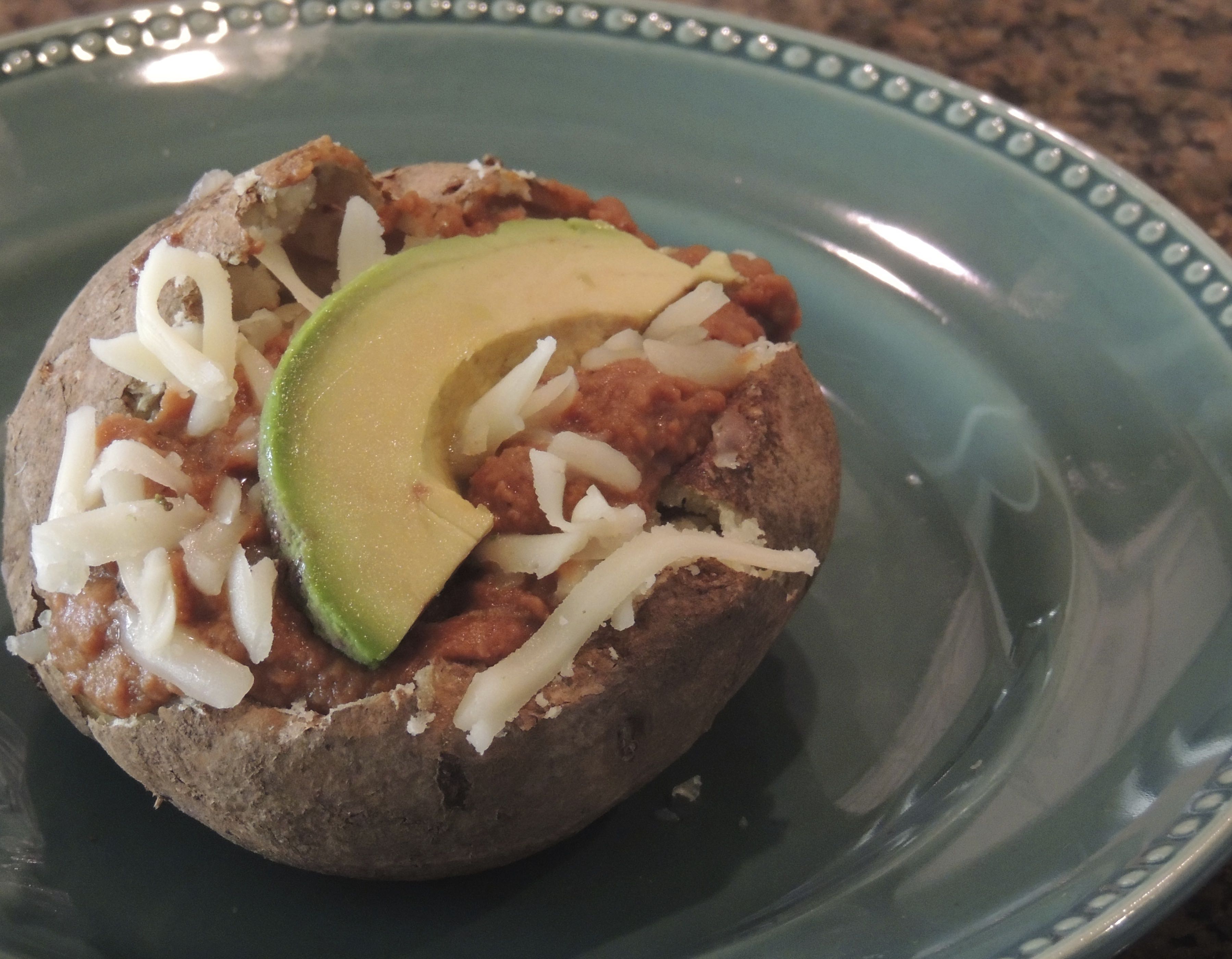 Breakfast sweet potato – top a sweet potato with plain Greek yogurt, maple syrup, cinnamon and walnuts.
Salad-stuffed potato – fluff up potato (white or sweet) with some olive oil, salt and pepper. Add your favorite salad ingredients and top with vinegar.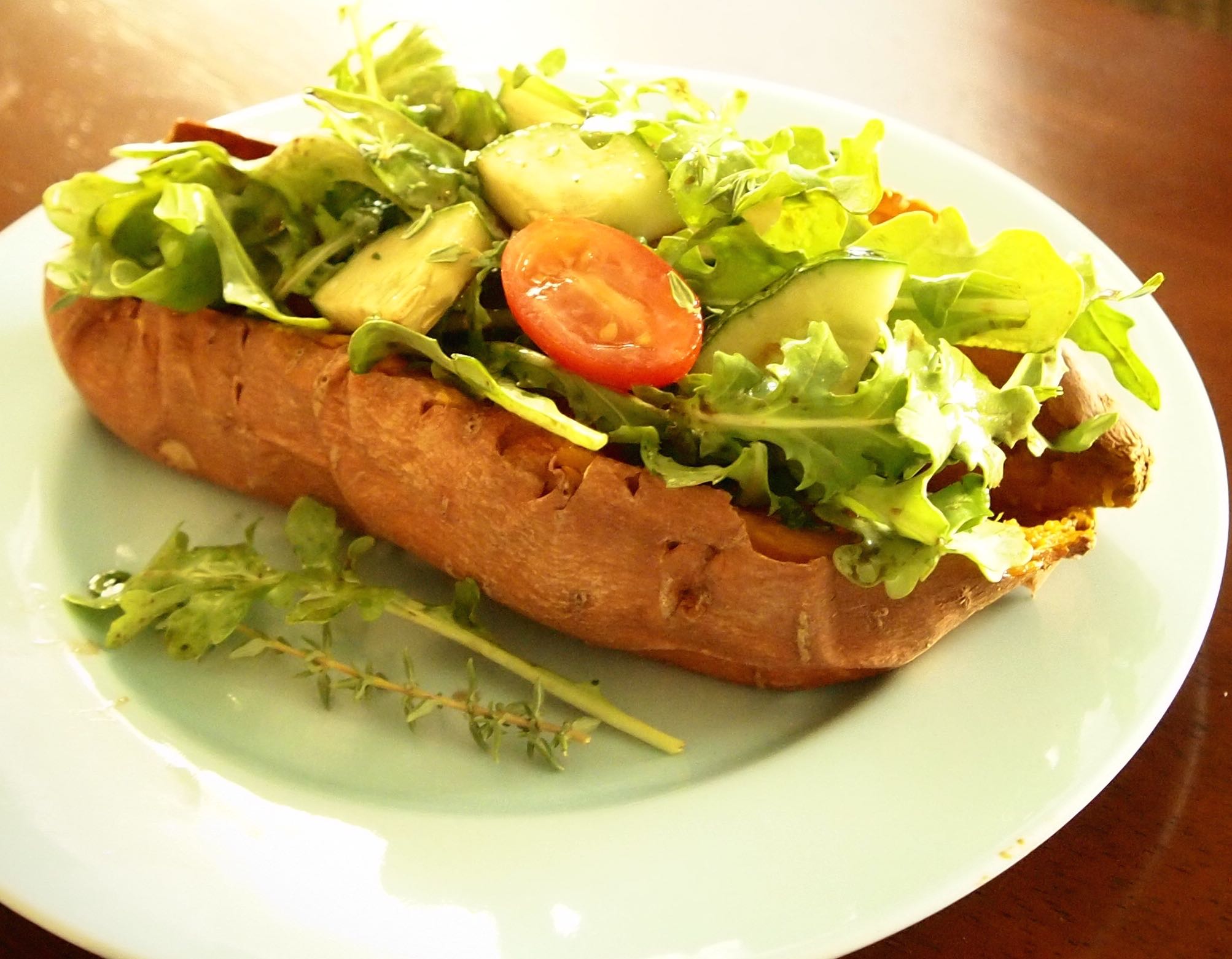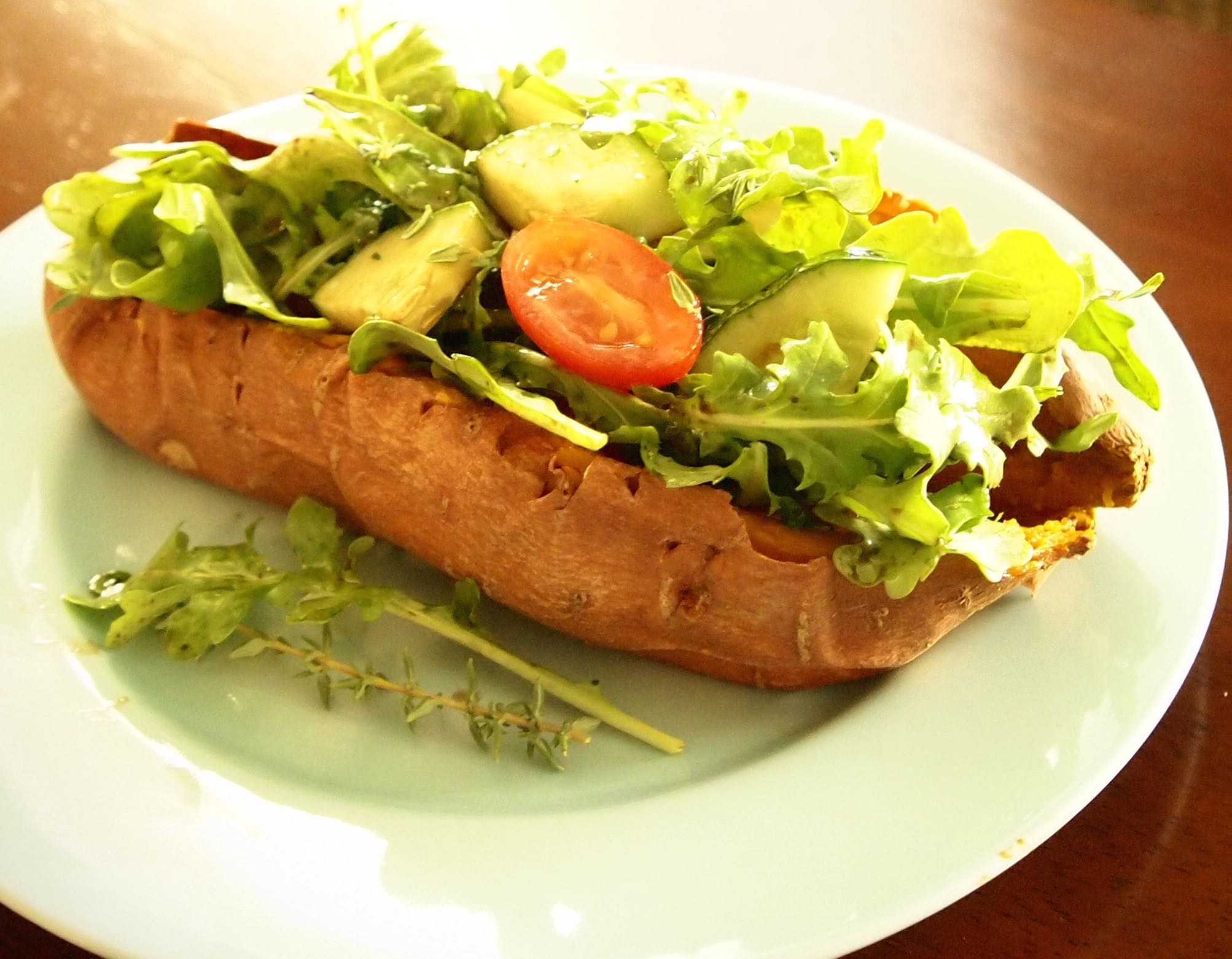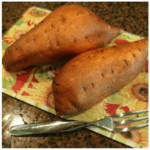 Difficulty:
Cost:
Easy instructions for baking any type of potato, in the oven, crock pot or microwave.
Difficulty:

Cost:

Easy instructions for baking any type of potato, in the oven, crock pot or microwave.
Scrub the potatoes and remove any bad spots. Use a vegetable brush if you have one. Potatoes grow in the dirt and can be very... well, dirty.

Cut off any dark or green spots (which contain toxins), and remove any sprouts.

Pierce the potatoes with a fork about 4-5 times - It is CRITICAL that you pierce the potato! Otherwise, it could explode...literally. Take this time to let out some stress or anger if you like.

Rub outside of potato with olive oil, then sprinkle with salt and pepper.
If you want a crispy peeling, do not wrap in foil. Otherwise, wrap in foil. Place directly on rack in the preheated oven. If not wrapped in foil, place a baking sheet on the rack below, to catch any drips, especially when baking sweet potatoes.

Bake for 45 minutes, then check by piercing with a fork. Cook longer if not tender. The timing depends on the size, but also the type of potato. Sweet potatoes and yams usually cook more quickly than white potatoes.
Wrap in foil so that no skin is showing and place in crockpot.

Bake on low for 8-10 hours or until potatoes are tender. (It's great to come home from work to slow-baked potatoes!)
DO NOT WRAP IN FOIL! Never, ever put metal (which includes foil) in a microwave! It burns, and you will ruin your food and very possibly your microwave. Cook potatoes wrapped in a damp paper towel for 3 minutes, then flip over and cook for 3 more minutes. Based on the size of the potato, you may or may not need more time.

Let rest a few minutes, then check with a fork to see if they are done evenly all the way through. If not, cook another few minutes, turning over halfway through.